Search Engine Optimization, Web Development
How We Grew a Company By $50 Million in 90 Days (Without Paid Ads)
Covid Clinic is the third largest Covid testing clinic in the United States, with over 100 locations nation-wide. They were competing with major national brands such as CVS and Walgreens and they had also worked with multiple large marketing agencies before coming to us with minimal success.
We put together a highly-specialized, full-time team full of our SEO specialists and also our head copywriter and head designer. Together we put together a very precise game-plan for Covid Clinic that could BEAT companies like Walgreens and CVS. We focused on what would work for their business, rather than a templated strategy like so many other SEO agencies put together.
Our strategy was to dominate the local markets with Google, Apple Maps, Bing, and more. We knew that by putting a focus on where the competition wasn't as focused, we could quickly see results. We went after the "low-hanging fruit" first, and then went up the tree, tackling both on-site and off-site SEO at the same time to maximize results.
We increased the sitespeed by 5x after cleaning up the backend of the website. We created a brand-new, conversion-focused design that made checkout easier for the customer.
We uploaded non-stop SEO-rich content to Covid Clinic's website, featuring blogs, graphs, and other Covid news.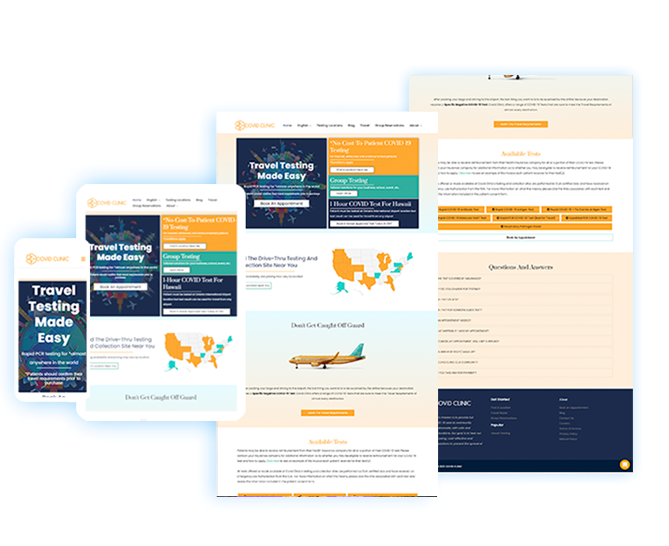 There were a few major factors that were holding Covid Clinic back when they first came to us. Their site speed was horendous (load speed was 13 seconds!), their conversion rate was 5% and sometimes under 3% (pretty low), and they were spending multiple millions on paid ads to compensate for their low organic traffic, which weren't performing very well.